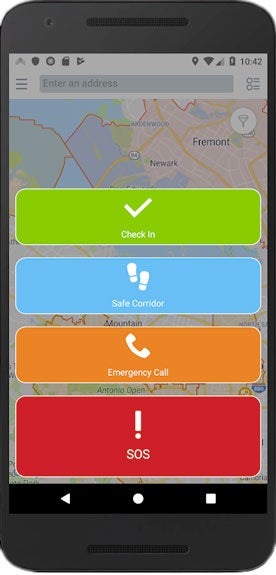 RPI Alert uses the Everbridge Mobile App to enhance your personal safety on campus by turning your smartphone into a personal safety device. Quickly contact Public Safety in cases of an emergency, or use the app to anonymously report a crime or suspicious activity.
The Everbridge Mobile App is a free, opt-in personal safety app for any member of the RPI community with a valid RIN.
Step-by-step instructions
For Android users open your Google Play Market Place, for Apple users open your App store.
Search for Everbridge, and select the orange option for Everbride Safety App/
Once the app is downloaded onto your Android or Apple device, open the app and select to either allow or block push notifications.
In the organizational search within the app, search: RPI, Rpi, or rpi to be directed to the RPI Alert Safety Application.
Use your rcs account information for SSO into RPI Alert Safety App.
Once you are logged into SSO, you will be asked to fill out your preference settings for the device (this will only be required on initial sign on).
You have now downloaded the RPI Alert Safety app and can benefit from all the safety enhancements and offerings. For all questions contact: DPSAccessControl@rpi.edu
Buttons
Check-In
This will send a silent notification to Public Safety of an updated location for the user who activated the button. Public Safety will not respond unless an SOS or emergency call is placed by the end-user. This button serves as just a routine check-in of location.
Safe Corridor
Serves as a "virtual safety escort" with an Officer from the Department of Public Safety. Select this button to set a timer when walking from your starting and ending destination. If you do not check-in on the app once you have arrived safely, Public Safety will be alerted immediately and sent your location to help ensure safety.
Emergency Call
Select this button to be connected directly to an Officer within the Department of Public Safety. Serves as a "portable" code blue emergency phone.
SOS
SOS button will send a push-notification to Public Safety that you are in desperate need of assistance, and can send your location (if turned on). If you allow the app to access your camera, it will also send Public Safety a live recording from your phone, assuming the SOS was activated for an emergency.
Tip-Line
Under the "reports" field in the app, you can select the "Tip-Line" button to send a push-notification to Public Safety and chat with an Officer through the application or via text. This should only be used during emergencies where phone-calls cannot be made. By submitting a tip, Public Safety will be given your contact information so they can respond immediately if further conversation is needed on the incident.
text "RPIGUEST" to 888777