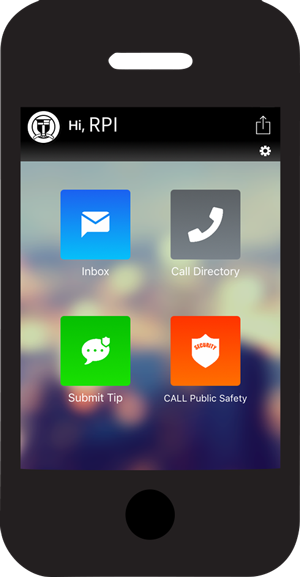 Using the RAVE platform, RPI Guardian is a mobile app that enhances your personal safety on campus by turning your smartphone into a personal safety device. Quickly contact Public Safety in cases of an emergency, or use the app to anonymously report a crime or suspicious activity.
RPI Guardian is a free, opt-in personal safety app for any member of the RPI community with a valid RIN.

Start using RPI Guardian
Visit www.getrave.com/login/rpi and log in using your RCS username and password.
A one-touch panic call is automatic with the app. Once you activate RPI Guardian, the Public Safety emergency line will be connected based on the signal of your service. During this call, you have the option to share your location.
Submit a tip to Public Safety with the touch of one button—and have the option of sending it anonymously. There are several pre-programmed tips ready for use during an emergency situation. You can send your location and pictures to Public Safety, as well as have instant live chats with Public Safety Officers.
Precautionary timer mode allows you to set a timer which, if not deactivated by you once you reach your destination, will send an alert to Public Safety.
Stay "in the know" where ever you go by receiving alerts based on your location.